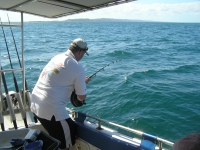 April 2008 has started with a bang!
The first trip we got in was a half day on the 1st April. We headed out at 7am on a half day fishing tour, and headed toward Sunshine reef. A Bay was on fire with Bonito leaping everywhere. It didn't take long to hook up on a nice one. We then headed out to fish the reef, where we picked up nice Maori Cod, and Pearl perch.
The following day, the guys from Janda Furniture came out. Once again, we headed to

Sunshine

reef. We hooked a nice Parrot early on, that was over 2.5 kg. The sea was pretty messy on Sunshine, so we made the call to head over to Halls Reef, just off the Noosa North Shore. We chased Bonito along the way, but the fun started when we anchored! It didn't take long for the first decent hook up, a Spotted Mackerel, was boated, and we got ready for the next. Very soon after, the went off, and after a short tussle, a nice Spanish Mackerel was brought to the side of the boat, where he then taunted us, and bit the trace off! The next hook up was one of the biggest fish I have ever seen! David Gum was holding his Alvey, when line started peeling out. I was just about to dump the anchor, when the line stopped going out so quickly. David had about 350 meters of line peeled out. It was awesome. After a few laps of the boat, and about 40 min, David had brought the fish to about 100 meters from the boat, where it was on the surface. Standing on the roof of Laguna Cat at this stage, I could make out a huge silver fish, about the size of a VW Beatle! It was huge, and a photo would have been good, but, it too ended up snapping the line after about 45 min. The next dropped fish was a Cobia that was acting about as strange as I have seen a fish act. The Cobia was chasing anything that moved, but the cool bit was watching it catch pilchards we threw, before they hit the water! Eventually Rob Barret hooked him, and he swam straight for the Anchor rope, and snapped off. In the end, we went home with a couple of fish. It was one of the better days fishing, and goes to show that the pelagic fish are here, and we should be in for a good season for Light game fishing in Noosa this year.
On the third of April, we headed out again to Sunshine reef, where, although not as action packed as the day before, we still came home with a decent feed consisting of Parrot, Moses Perch, and a nice Cobia. I felt my age this day, when I had Thomas Lock on the boat who is being taught by a teacher that I had 18 years ago.
in.