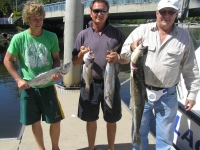 Spotted Mackerel Pearl Perch and Cobia.
Caught at Sunshine Reef on the 14th April 2008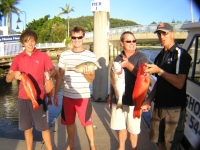 Coral Trout, Parrot, and Morwong.
Sunshine Reef
14th April 2008

The weather once again has hammered us! We did manage a couple of trips though. The 12th of April saw us head out to North reef on a Full day fishing Charter. We departed the Sheraton Jetty Noosa at 6am, and steamed out to North. It was a long day of searching, with a feed, but not much more by the end of it. We came home with Moari Cod, Sweetlip, greasy cod, moses perch and Parrot. As far as long days goes, this was the longest in some time. There were some decent hookups, but they didn't seem to be able to be landed!
The next trip we could get out on was the 14th April. We managed two trips. The morning trip was a 1/2 day tour that saw us head straight out to the bottom end of Sunshine reef. Being so close to the coast always enables more fishing time, and, aside from that, the other close reefs to Noosa havn't seemed to be working as well. The first drop of the pick was close in, and yeilded Parrot and moses Perch. We moved a little further north, and wider. We found a nice Pearl Perch, and shortly after, a couple of nice Spotted Mackerel. The last spot was one I hadn't visited for a few months, and we picked up a couple of fish there, but it was as everyone was winding up to head home that Barry hooked onto a nice Cobia, and faught well with the fish determined no to come near the boat. (Top left pic).
After the last spots firing up, the afternoon 1/2 day fishing trip saw us head straight out to Sunshine again. On the way out, we found some Bonito boiling, unable to resist, we threw some slugs at them, but they didn't seem too interested.
The spot that had fired in the morning was slow in the afternoon, with only a Morwong caught. We headed closer in, where we found two Coral Trout, Moses Perch, Sweetlip, and Snapper.
We headed home with a nice feed of fish once again. (I won't mention Greg helping).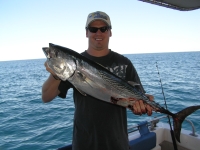 Frigate Mackerel
Caught at Sunshine Reef
26th April 2008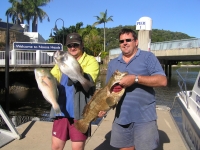 Estuary Cod, Parrot and Pearl perch
North Reef
27th April 2008

The next few days out were a mixture of catches. On the 24th April, we headed to Sunshine reef on a 1/2 day trip, and managed a Spotty Mackerel, and a mixture of other small fish (Moses Perch etc). The fire up day was clearly the 26th of April, when we managed to get out on two 1/2 day fishing trips. The Morning trip saw us depart at 530am, and head down to the southern end of Sunshine Reef, where after a few moves saw us catch Snapper, Parrot, Moses Perch, Teraglin Jew, Trevally, and a nice 8kg Cobia (I am looking for the Photo's but they seem lost.....if anyone has some, please forward them on to me)
The afternoon trip saw us depart Noosa heads at 2pm. We headed to about the middle of Sunshine reef, and it was on.
The boys got to see how easy fishing can be, with a fantastic display of catching! It didn't take long after dropping the pick before we started reefing in nice Pearl Perch, and moses Perch. The photo to the right, and down, shows the catch for the trip, and we probably put back a further 20-30 moses perch! After afew moves around the reef, we ended up heading home with a nice catch of Pearlies, Moses Perch, Parrot, Estuary Cod, and Frigate Mackerel.
Our Final trip for April 2008 was a 3/4 day fishing charter on the 27th, where we headed out to North Reef. It started pretty rough out there, but soon eased back to pretty calm conditions, and we were able to come home with some great quality fish as seen left, below, and below left. The Photo of the Pearly and parrot even made it to the Sunshine coast daily!
All in all, April was a great month fishing, when the weather let us get out. There were much better catches than the last few years, which, could well be thanks to the terrible weather we have been faced with. Good to see good fish around though.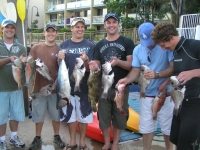 Mix from the 26th April 2008
Sunshine Reef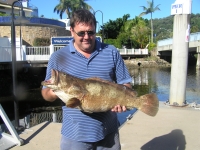 Estuary Cod
North Reef
27th April 2008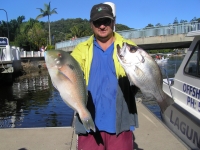 Quality Pearl Perch and Parrot
North Reef
27th April 2008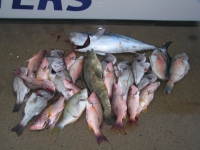 26th Aprils catch
Sunshine Reef